Course Details
When you ask people what grooming procedure they are having the most trouble with the answer is typically "nails". Keeping our dogs' nails at a reasonable length is necessary for their comfort and well-being. Our dogs don't understand this though, and they are not always cooperative with their nail care.
In this workshop we will discuss cooperation, consent, and emotional comfort levels. We will look at both classical and operant conditioning approaches to nail care. We will also consider commonly used tools.
The exercises that will be discussed and demonstrated include:
Tool (clippers & dremel) conditioning

Foot handling

Isolating nails

How to dremel/clip to recede the quick

Training to use scratchboards
Watch the trailer:
This is a previously run workshop. Your purchase will provide access to both the original presentation recording and the student feedback recording. There is no opportunity to submit video or ask questions.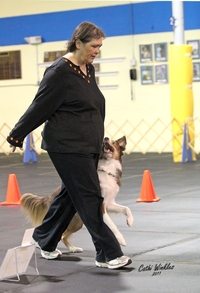 Instructor:
Deborah Jones
Deborah Jones, Ph.D. (she/her) is a psychologist who specializes in learning theory and social behavior. She taught a variety of psychology courses at Kent State University for the past 20 years. Deb has been training dogs for performance events for the past 25 years and was an early...(Click here for full bio and to view Deb's upcoming courses)