Course Details
Have you ever been told your dog needs to do a specific fitness exercise and then not known what to do with it? This workshop will focus on knowing how and when to progress a fitness exercise. Fitness is individual to each dog, one workout does not fit all. There is no magic exercise for every dog or magic number of repetitions to keep the dog fit for life. The lecture will define multiple exercise principles and explain how they should be applied to every dogs' fitness routine.
Workshop goals include:
- learning signs of fatigue
- learning exercise variables
- applying both concepts to a specific exercise
- understanding how changing exercise intensity affects the dog
Working spots will pick one exercise to work through. Exercise examples provided in the lecture.
Assignment includes:
- describing fatigue the dog exhibits
- determining how to make the exercise harder
- determining how to make the exercise easier
- planning how to fit the exercise into a workout routine
Check out the trailer:
Lecture Publish Date: Sunday October 13
Video Submissions Due Date: Sunday October 20 @ 12pm noon PT
Feedback & Questions Video Publish Date: Wednesday October 23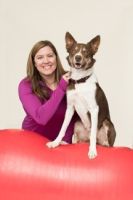 Instructor:
Leslie Eide, DVM
Leslie Eide (she/her) graduated from Colorado State University's veterinary school in 2006. She completed a rotating internship in small animal medicine in Albuquerque, NM. She continued her education by becoming certified in canine rehabilitation through the Canine Rehab Institute...(Click here for full bio and to view Leslie's upcoming courses)