Course Details
The most important aspect of any relationship is communication. Join us to learn how to develop better communication with your dogs including building a multiple marker system to tell your dog instantly how they will be rewarded, where they will be rewarded and what they will be rewarded with. Teaching multiple markers can lead to faster learning, reduced frustration during the learning process and crisper, cleaner behaviors.

We will also discuss adding duration to behaviors utilizing a keep going signal: reverse luring. This communication tool helps to tell your dog that they are indeed doing the correct behavior and to keep doing it! Adding duration will never be frustrating for you or your dog again.
Watch the trailer:
This is a previously run workshop. Your purchase will provide access to both the original presentation recording and the student feedback recording. There is no opportunity to submit video or ask questions.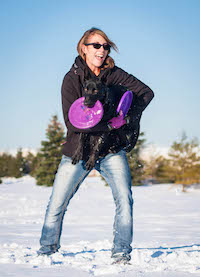 Instructor:
Sara Brueske
Sara Brueske (she/her) has been training dogs for over 15 years, and has experienced a large variety of breeds and sports during that time. Having graduated as a Karen Pryor Academy Certified Training Partner ... (click here for full bio including Sara's upcoming courses)