Course Details
What exercise can I do to prevent injury? How many times do I have to do it? I love canine fitness, but why is it SO complicated? Why can't someone just give me 5 exercises to do for the rest of my dog's life?
Every day I hear these questions, and the answer it, it's not that simple. Fitness is complicated and very individual, but this class will make it a little bit easier!
In this concept class, you will learn about exercise principles like Overload and SAID and how to apply them. You will learn how to set appropriate fitness goals and how to progress (or regress) exercises.
We will discuss different types of workouts such as strength training, yoga-like training, High Intensity Interval Training (HIIT), and how to fit it all in your busy schedule.
By the end of the class you will have a good understanding of how to design a workout for your dog and schedule you year around your competition schedule.
Attention: This class will NOT teach specific exercises or workouts. It is best that you already have some knowledge of canine fitness exercises for your dog to get the most out of this class.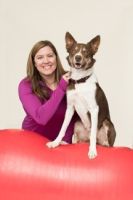 Instructor:
Leslie Eide, DVM
Leslie Eide (she/her) graduated from Colorado State University's veterinary school in 2006. She completed a rotating internship in small animal medicine in Albuquerque, NM. She continued her education by becoming certified in canine rehabilitation through the Canine Rehab Institute...(Click here for full bio and to view Leslie's upcoming courses)