Course Details
Heeling can be an amazing dance between engaged partners; the handler leads the dance and the dog responds with precision, attention and animation. But sometimes the dance is lost - the joy takes a backseat to precision and, eventually, the entire picture falls apart. Over time the dog may view working with the handler as a task that must be performed rather than a privilege to look forward to.
No cookies? No toys? No joy.
There's no single solution to loss of motivation or a dullness in the work, but one of the most concrete things you can do to bring joy into heeling is to add movement and flow - in the form of heeling games - that give the dog a "natural" reason to enjoy working with you, independent of the external reinforcers like cookies and toys. These games can be taught to a relatively young dog or puppy just starting out or to a seasoned obedience dog... and to all options in between!
In this workshop, Denise will introduce you to a series of heeling games that can bring natural attention and animation into your heeling picture for your current or future obedience star!
Students who sign up for a working spot will have an opportunity to start the process of teaching one or more games with feedback from Denise (in the second recorded lecture). All students will have an opportunity to ask clarification questions, which will also be answered in the second lecture.
Note: This workshop heavily duplicates Denise's online class, Heeling Games, as well as her online webinar offered July 5, 2018. If you take this workshop and have already purchased one of those resources, please recognize that the first lecture recording will present information that you already have. The second recording will be made from student submissions and will be new material for everyone.
Check out this short trailer:
This is a previously run workshop. Your purchase will provide access to both the original presentation recording and the student feedback recording. There is no opportunity to submit video or ask questions.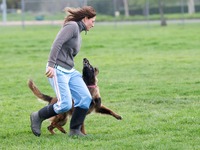 Instructor:
Denise Fenzi
Denise Fenzi (she/her) has competed in a wide range of dog sports – titling dogs in obedience (AKC and UKC), tracking (AKC and schutzhund), schutzhund (USA), mondioring (MRSA), herding (AKC), conformation (AKC), and agility (AKC). She is best known for her flashy and precise ... (Click here for full bio and to view Denise's upcoming courses)