Course Details
Target training is a fundamental skill that is often taught early. One of the very first behaviors we teach our puppies is a nose touch to our palm. Beyond that though, there are so many fun variations on simple targeting! We have the typical nose touch (to your hand or another object), the chin rest, front foot targets, back foot targets, and so much more.
It's important to maintain the fluency and topography of our target behaviors so that they are useful as building blocks for higher level skills. In this workshop we will spruce up the basics and then get to the fun part, adding interesting twists and variations to targeting.
Targeting can be extremely valuable for cooperative care work as well as for fitness training. It is also integral to many obedience and agility behaviors such as go outs and stopped contacts. No matter what you plan to do with your puppy or dog, targeting will make it easier. Join us and let us help you take your targeting to the next level!
Workshop outline:
What is target training?

Why is it important?

Different body parts

Different props

Criteria

Cues

Process

Applications
Exercises:
Nose touch to hand

Nose touch to target

Chin rest to palm

Chin rest to prop

Chin rest duration

Front feet

Back feet

All 4 feet

Bonus: back up, tilt, discriminations
Check out the trailer:
Lecture Publish Date: Sunday September 8
Video Submissions Due Date: Sunday September 15 @ 12pm noon PT
Feedback & Questions Video Publish Date: Wednesday September 18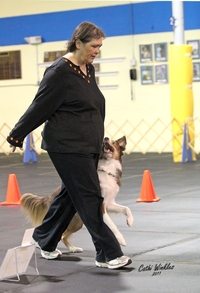 Instructor:
Deborah Jones
Deborah Jones, Ph.D. (she/her) is a psychologist who specializes in learning theory and social behavior. She taught a variety of psychology courses at Kent State University for the past 20 years. Deb has been training dogs for performance events for the past 25 years and was an early...(Click here for full bio and to view Deb's upcoming courses)