Course Details
Let's dive into teaching all 6 possible position changes of sit, down, and stand, using front foot and rear foot targets. This workshop will teach you how to train the positions with the dog in front of you and how to put them on a verbal only cue.
We will look at the most common ways of teaching the position changes:
Sit to stand- kickback stand, front feet still

Stand to sit- tucked sit, front feet still

Stand to down- foldback down, all 4 feet still

Down to stand- all 4 feet still

Down to sit- push back, rear feet still

Sit to down- both rear feet still and front feet still versions
Note: This workshop will NOT be covering position changes in heel position or how to fade the targets.
Check out this short trailer:
This is a previously run workshop. Your purchase will provide access to both the original presentation recording and the student feedback recording. There is no opportunity to submit video or ask questions.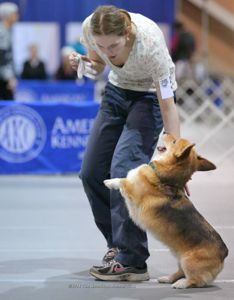 Instructor:
Laura Waudby
Laura Waudby trains and competes in obedience, rally, agility, and dabbles in disc dog and trick training. She was halfway to her OTCH with her UDX corgi, Lance, before his early retirement. She also has championship titles in USDAA and UKI. By day