Course Details
Are you curious about Nosework but it all seems a little daunting? Not sure you want to jump into the sport (or a class)? Maybe you're not sure what all the hype is about or whether this sport might be for you... This workshop will get you started!
This workshop will teach you the basics of how to imprint a new odor. Although competition focuses on specific target odors, you can "try it out" with just about anything non-toxic. You can even use these techniques to teach your dog to find something useful... like your keys!
Our topics!
What actually IS Nosework?
The two halves of training… (Hunting and Imprinting Odor)
A little about building hunt drive, including some fun games to play!
Introducing Odor, including preparing Q-tips and making hides!
What's Next?
This workshop is a perfect pre-view to NW101.
You will also learn WHY I use inexpensive metal switch boxes to imprint odor (not required, although suggested!)... avoid box smashing in the future!
Dogs who are perfect for this workshop:
Puppies who need mental stimulation
Adolescents who need low impact activities to keep them busy and wear them out mentally
Dogs who need to develop Confidence in general
High Drive dogs who need an outlet for their incredible amount of energy
Convalescent dogs who are recovering from an injury
Senior dogs who are retired from other sports but still need to "do stuff"
The video examples will include clips from an 11 week old puppy, a high drive adolescent dog and a 3 legged dog!
The workshop will give you concise information that you will need to get started in this sport on the right foot. Get started in a way that will set you up for success in the future! You will have specific games and exercises that you can work on. The Working Spots will have homework that will start the odor imprinting process.
Check out this short trailer!
Supply Information:
You basically have 2 choices... you can either purchase supplies consistent with competitive Nosework, or if you really just want to "try it out", you can make due with what you have at home.
We will need 3 things: (1) a target odor, (2) something to put the prepared odor into... this is the "hide", (3) small containers to put the hides into.
If you are interested in competitive Nosework, I would suggest ordering from a Nosework online vendor (I highly suggest www.k9nwsource.com in the US as she is very fast in shipping and you can request to expedite). Or... you can get the correct essential oil and prepare your own Qtips. The workshop lecture will include information on how to do this. This might be your fastest option!
A little about Target Odor:

Something to put the odor in:
You can either get clean empty lip balm containers (they don't even need holes!) or a CLEAN Altoid tin that has been put through the dishwasher. Even a tea ball strainer will work! Anything that allows odor to pass through (e.g., not air tight) will work! If you want to get fancy and you are using a metal tin, a small rare earth magnet inside can be advantageous (but not required!). You will only need one of these for the workshop... but if you are super excited about the sport, you may want more for the future!
Small containers to put the hides into: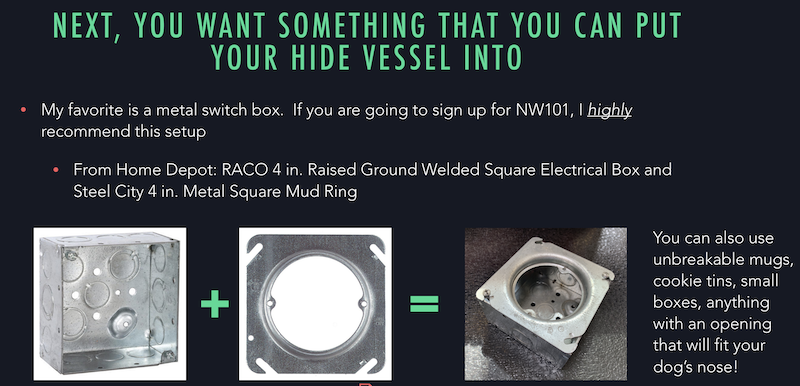 It's important not to feel overwhelmed by the supplies! Keep in mind that even if you have a working spot, you can "make due" with things that you pull together... it will be fine!! I promise!
This is a previously run workshop. Your purchase will provide access to both the original presentation recording and the student feedback recording. There is no opportunity to submit video or ask questions.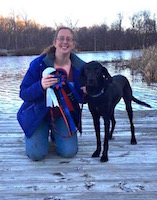 Instructor:
Stacy Barnett
Stacy Barnett (she/her) is a successful nosework competitor, being one of only a handful of teams titled through the Summit Level (SMT) in NACSW with her dog, Judd. In fact, she and Judd have earned THREE Summit titles (SMTx3)! Stacy is also an international clinician and AKC scent work judge. (Click here for full bio and to view Stacy's upcoming courses)