Course Details
Are you an approved PPP Instructor and beginning to think about how it all works in preparation for giving your first PPP workshop? Maybe you've been following along as we've discussed all the details in the facebook group and even read through the "how it works" doc but you still don't have a clear picture of how all the pieces fit together... no worries! That's why I created this workshop.
During this workshop you'll get to experience what a workshop looks like from a student's perspective with a presentation, quiz, and feedback session. The workshop presentation itself is on how to give a PPP Workshop - so we'll cover:
Preparing your workshop (including how to use Screencast-o-Matic)
Building your Quiz
Submitting your Materials
What to do during the week your workshop is "live"
How to find the questions your students submitted and their video links
Posting your feedback video
How PPP Workshops differ or are similar to other things FSDA offers
And where you can find more notes on all of this if you need them in the future!
By the time you've completed the workshop you should have a stronger understanding of what's involved in giving your workshop, what needs to happen when, and how the entire process will work!
---
Lecture Publish Date: Sunday June 16
Questions & Video Submissions Due Date: Sunday June 23 @ 12pm noon PT
Feedback & Questions Video Publish Date: Wednesday June 26
---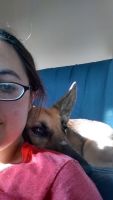 Instructor:
Melissa Breau
Melissa (she/her) is FDSA's resident marketing geek. She teaches two classes here at FDSA: Marketing for Pet Professionals and Building a Wordpress Website.