Course Details
You understand the importance of having a plan when it comes to training a dog … but what about when it comes to marketing your business?
If you own your own business and you struggle with marketing, this class is for you. Whether you're new and trying to figure out where to start, have been marketing your business for a while and just aren't seeing results, or have enjoyed a ton of success but need to figure out what's working and what's not, in this workshop we'll cover where most people go wrong, evaluate what's working for you now (and what's not), and discuss new ideas for improving the effectiveness of your marketing efforts. You'll walk away with a better understanding of how marketing works and new ideas for bringing in new clients.
Check out this short trailer!
Topics:
The Great Big List of Marketing Ideas

What is marketing?
How do you design a "behavior chain" that leads a customer to buy?
Getting more of your favorite clients
Let's stop throwing away money. What's actually working?
What can you afford to spend?
Creating your marketing plan (30 days at a time)
---
---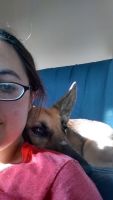 Instructor:
Melissa Breau
Melissa (she/her) is FDSA's resident marketing geek. She teaches two classes here at FDSA: Marketing for Pet Professionals and Building a Wordpress Website.