Course Details
How zen is your dog? Deb will help you and your dog explore the concept of zen and delayed reinforcement. She will lead you through a series of increasingly challenging exercises that build both control AND confidence. Our goal is to help our dogs learn impulse control without frustration.
The four zen games we will cover in this workshop are:
1) the two bowls game, which teaches our dogs the importance of listening for an active release cue and also introduces the ability to predict the location of the reinforcer,
2) the zen bowl game, which helps our dogs learn that waiting leads to reinforcement.
3) the sticky mat game, which gives our dogs an active behavior to perform in the face of a variety of challenges, and
4) the wait for it game, which helps our dogs understand when and where reinforcement will be available and how to respond appropriately in the face of increasing challenge.
For each game there are 3 levels of proficiency to work through (Novice, Advanced, and Masters). And finally we will have an Ultimate Zen Challenge combining all the games.
While the games are played with food challenges, each will also have a toy option as well.
Does your dog have what it takes to be a Zen Master? Join us to find out!
This is a previously run workshop. Your purchase will provide access to both the original presentation recording and the student feedback recording. There is no opportunity to submit video or ask questions.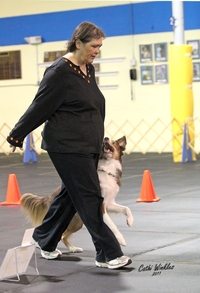 Instructor:
Deborah Jones
Deborah Jones, Ph.D. (she/her) is a psychologist who specializes in learning theory and social behavior. She taught a variety of psychology courses at Kent State University for the past 20 years. Deb has been training dogs for performance events for the past 25 years and was an early...(Click here for full bio and to view Deb's upcoming courses)