Course Details
Do you have a wiggle butt dog has a hard time staying still for their stand for exam? Or perhaps your dog is a bit suspicious of the judge coming over to touch them?
In this workshop we will work on your dog understanding that exams are not about being petted! This will take the pressure off your shy dog and your over greeter will have less conflict about wanting to say Hi! Whether your goal is the obedience ring or being measured for agility, join us for this workshop on how to teach your dog consent cues and to understand the structure of exams.
Note the first half of the workshop will be on exercises you can do by yourself, the second half focuses on using helpers to work towards being examined by a judge.
Lecture Publish Date: Monday May 20
Student Video Review Session & Live Q&A Date: Monday May 27 @ 6pm PT
Video Submissions Due Date: Saturday May 25 @ 3pm PT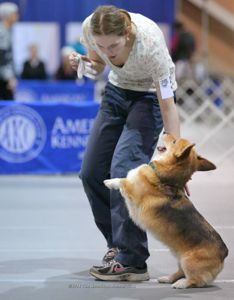 Instructor:
Laura Waudby
Laura Waudby (she/her) trains and competes in obedience, rally, agility, and dabbles in disc dog and trick training. She was halfway to her OTCH with her UDX corgi, Lance, before his early retirement. She also has championship titles in USDAA and UKI. By day...(Click here for full bio and to view Laura's upcoming courses)