Course Details
This workshop will discuss how to build a disc dog freestyle routine. The lecture portion will cover what elements to include in your routine, flowing field movement, song choice, disc management and how to impress your judges to earn top scores. Working spot students will submit videos of their full or partial routines for direct feedback.
Get ready for disc dog season by polishing your routine!
This is a previously run workshop. Your purchase will provide access to both the original presentation recording and the student feedback recording. There is no opportunity to submit video or ask questions.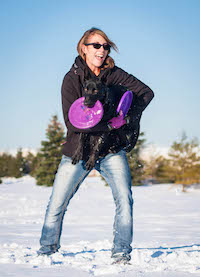 Instructor:
Sara Brueske
Sara Brueske (she/her) has been training dogs for over 15 years, and has experienced a large variety of breeds and sports during that time. Having graduated as a Karen Pryor Academy Certified Training Partner ... (click here for full bio including Sara's upcoming courses)