Course Details
As building blocks for the upper levels of Rally-FrEe and foundation for freestyle, the seemingly simple behaviors of Circles, Spins and passing Thru the handler's legs, open unexpected paths to more advanced behaviors. These versatile skills allow your dog to quickly grasp upper level skills and build fun and novel behaviors into every course and freestyle routine!
This workshop covers "circle behaviors" and can be taken as a stand-alone workshop or as part of a series which will also cover the other two skills of "thru behaviors", and "spin behaviors".
Lecture Publish Date: Tuesday April 23
Student Video Review & Live Q&A Date: Tuesday April 30 @ 4pm PT
Working Video Submissions are due: Sunday April 28 @ 3pm PT

In this workshop Julie will cover how she trains the foundation behavior of "circling the handler" and some of its many variations using training aids, shaping and targeting. The step-by-step instruction includes over 20 video clips including coaching sessions with real dog and handler teams learning the skills! The following skills and behaviors are included in this workshop
Circle Behaviors
Foundation circle around the handler
About U 180 transition
Circle Turn transitions
Circling handler multiple times
Circling handler as handler turns opposite
Circling a performance prop (such as a cane)
Circling a performance prop as handler circles opposite
Circle 2 Circle 1
Placing "circle behaviors" on verbal cue
The following pre-requisites are recommended for working teams for the most benefit and success in the exercises:
Dog and handler should have experience with clicker and shaping techniques.
The following tools or training aids are used in the presentation. While it's not necessary to have these tools to participate as a working team, train the behaviors, or have the instructor critique your video, they are used in many of the training techniques shown in the presentation. Please feel free to contact the instructor if you have questions regarding these tools.
Standing platforms (Thru and Spins)
Target stick (Thru and Spins)
Training gates or short ex-pen (Circle and Thru)
Clicker, food rewards, bait bag or something to hold and conceal treats
* This is one part of a three part series; however each part is built to stand alone, allowing students to take one, two, or all three parts depending on their team's needs. Part one was on Thru behaviors and ran in March. Part three will be on Spin Behaviors and will run in June (starting 6/5; registration will open 5/25)*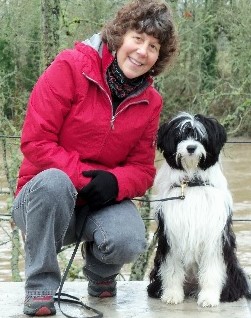 Instructor:
Julie Flanery
Julie Flanery (she/her), CPDT-KA has been working professionally with dogs and their handlers since 1993. She focuses on the needs of the dog and helping people form a strong relationship, through clear communication, and positive reinforcement. She has placed Obedience...(Click here for full bio and to view Julie's upcoming courses)