Instructor: Mariah Hinds
Course Details
Note: Week one class lectures will be released on June 1st but your instructor will not join the classroom until Monday, June 4 due to participation in the FDSA Training Camp. This class will be extended to July 15th to allow for this delay.
Does your dog love people and other dogs too much? Does your dog bounce, lunge excitedly or stare at other dogs while on leash? Does your dog leap all over people and embarrass you with their greeting behavior? This class focuses on teaching dogs to greet people appropriately and to ignore other dogs and focus on you instead.
Your dog will learn to greet people without jumping on them and without reacting undesirably to them- on leash, off leash, close up, and at a distance. Yes, even the scariest or most exciting visitors will be greeted appropriately. We go over all of the steps for the stand for exam as well!
We will teach your dog to make desirable choices with other dogs. That means your dog will learn not to bark, stare, lunge at or get overexcited when there are other dogs around.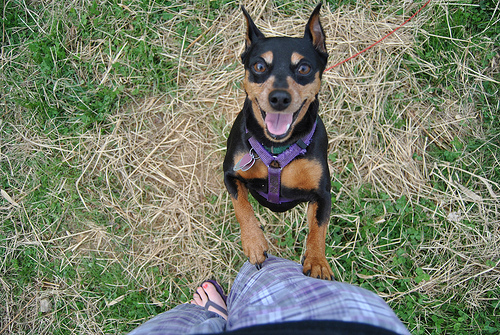 We will practice putting jumping up on cue so we can prevent jumping when they are muddy. We will also practice staying on a mat and stand or sit for exam while a judge approaches for dogs who already know a stay behavior.
*This class covers a lot of material. We cover shy dogs greeting or wanting to avoid people, confident dogs greeting people, teaching dogs to ignore other dogs who want to stay away from other dogs, teaching dogs to ignore dogs who want to excitedly greet other dogs. We cover a ton of different scenarios for those skills- on the agility field, at a distance, at the front door, on walks, etc. We cover doorbell greetings and practicing staying on a mat while people enter the house. We also cover the sit or stand stay for exam. Students will pick which games and exercises to work on based on their dog's needs.
Reign in your dog's enthusiasm without dampening their spirit!