Course Details
Let's keep going! Gun Dog - Continuing Education is a class designed to keep you moving forward regardless of your level or experience.
Whether you participate in pointing, retriever, or spaniel tests or have a versatile hunting companion in the real world, this class will help you organize your training to keep you moving towards your goals – whether you are just starting out or prepping for master hunter.
We will introduce specific analytical planning and problem solving techniques to help you make informed training decisions and implement training strategies. You will learn how to address a 'problem' in the moment, as well as how to adjust your training to avoid the problem in the future.
Have you ever been curious how to keep your training developing in a fluent and reasonably errorless manner? Have you come up against a problem and wondered how to fix it, but been unsure of the best course of action? Then join us as we explore training options, team development, and as a bonus, weekly fun drills to add to your toolbox.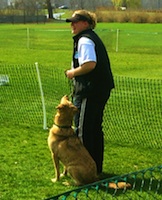 Instructor:
Cassia Turcotte
Cassia Turcotte has been involved with the dog training world for nearly two decades and has been training professionally since 1999. With a background in private behavior modification, she has also worked as a kennel manager, volunteer shelter staff, veterinary technician